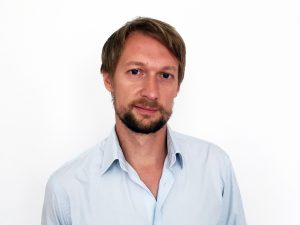 Michael Neuber earned a Ph.D. in Sociology from the Humboldt-Universität of Berlin in 2017. His research was also advanced through affiliations with the Department of Sociology and the Center for the Study of Democracy at the University of California Irvine, and with the Universität Potsdam. His work focuses on political conflict, social inequality, the sociology of the body, and visual approaches to the study of social movements, with particular attention to the visual representation of protest. Michael's current research explores intersections between issues of migration, citizenship, and populism as evidenced in various mediums and forms of political contention.
Research and teaching interests: social movements, political conflicts, visual sociology, collective action, sociology of the body, digital media
Publications:
Monographs
Neuber, M., 2018. Commedia del Conflitto. Der Körper als Medium das Protesthandelns. [Commedia del Conflitto. The Body as a Medium of Protest Action]. doctoral thesis, Berlin: Humboldt-Universität zu Berlin.
Neuber, M. (2008). Solidarität und Sozialstaat. Über soziale Mechanismen staatlich organisierter Wohlfahrt [Solidarity and the Welfare State. On the Social Mechanisms of State Organized Welfare]. master thesis, Saarbrücken: VDM.
Articles
Michael Neuber and Beth Gharrity Gardner (2020). Germany. In: Joost de Moor, Katrin Uba, Mattias Wahlström, Magnus Wennerhag and Michiel De Vydt (Eds.). Protest for a future II: Composition, mobilization and motives of the participants in Fridays For Future climate protests on 20-27 September, 2019, in 19 cities around the world., pp. 117-138.
Daphi, Priska & Piotr Kocyba & Michael Neuber & Jochen Roose & Dieter Rucht  & Franziska Scholl & Moritz Sommer & Wolfgang Stuppert & Sabrina Zajak (2015): Protestforschung am Limit. Eine soziologische Annäherung an Pegida. [Protest research at its limits. A sociological approach to PEGIDA], ipb working papers, Berlin: ipb.
Translation to German: Vouchez, Antoine (2014): Transnationale Expertenfelder als schwache Felder. Der Entwurf des ersten Weltgerichtshofs und die Entstehung eines internationalen Expertentums. Berliner Journal für Soziologie, 24 (2).
Neuber, M. (2014). Choreografie des Protesthandelns. Körper als Medium politischen Protests [Choreography of Protest Action: The Body as a Medium of Political Protest]. In: Bohnsack et al. (Ed.): Dokumentarische Video- und Filminterpretation. Methodologie und Forschungspraxis. Barbara Budrich: Opladen & Farmington Hills